Elk Grove Quilt Guild presents
2019 Harvest of Quilts - Quilt Show
September 14-15, 2019
Quilt Show Entry Form
Due July 18, 2019
Quilt Show Entry Form Instructions
S.E.S. Hall | 10428 E. Stockton Boulevard | Elk Grove, CA

How time flies when you're doing the things that you love. The Elk Grove Quilt Guild will be presenting the 2019 Harvest of Quilts Show - September 14-15, 2019 at the S.E.S Hall located at 10428 E. Stockton Boulevard, Elk Grove, CA 95624
The 2019 show will feature displays of quilts, wearables, and home dec items handcrafted by guild members. In addition to the member items on display, we will have featured exhibits, demonstrations and presentations of the guilds Community Service and Quilts of Valor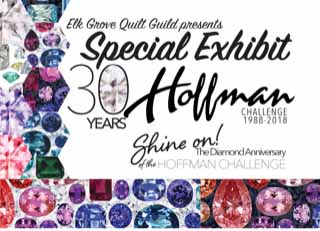 Programs. The show will also include vendors, raffle baskets, Country Store and our Opportunity Quilt - Stars at Midnight.
We are also very excited to be one of the shows selected to present the 2018 Hoffman Challenge Shine On! Exhibit . The 2018 Challenge marked the 30th anniversary of the challenge featuring digitally printed fabrics of gemstones. For the past thirty years, the Hoffman Challenge has attracted novice and experienced quilters, sewists, and fiber-artists to the competition where they incorporate Hoffman fabrics. We will be featuring a 40-piece display of winning items at the Harvest of Quilts Show.
If you're interested in attending the Harvest of Quilts, the show will be held September 14, 2019 (10 am - 5 pm) and September 15, 2019 (10 am - 4 pm). Admission will be $7.00 per person, and we will offer pre-sales on 10-packs of tickets. Please check back soon for more information on ordering and pricing.
If you're a guild member , here is important information:
Please be sure to volunteer for one of the committees or volunteer opportunities at the show. The show is our largest fundraiser and allows us to support our community services and education programs. We have opportunities available for everyone, please sign-up early to claim your spot!
Dear Jane! - Quilt Show Challenge - We have 30 members signed up to participate in the challenge - there is still time if you would like to sign up. Please see Georgia at one of the meetings if you would like a packet. Entry forms are due at the July meeting. All items must be completed and brought to the August meeting for member judging.
Entries! Quilts, Wearables & Home Dec - I hope you are finding time to work on items for the show. We will have more information at the upcoming guild meetings. Entry forms will be due at the July guild meeting.
Georgia & Roxanne, Chairs
We couldn't do this without our hardworking Quilt Show Committee.
Quilt Show Committee:
Quilt Show Chairs: Georgia Calderon & Roxanne Montrouil
Country Boutique: Maggie Smith
Decorations: Sue Overmire
Exit Door: Karen Jordan
Food: Roxanne Montrouil
Front Door: Sylvia McCutcheon
Ins & Outs: Karen Cannon
Judging & Ribbons: Terry Harman & Malene Evans
Layout: Anita Jordan
Opportunity Quilt: Sue Martin
Program: Sue Martin
Publicity: Georgia Calderon
Raffle Baskets: Marcia Richards
Setup & Takedown: Jim & Linda Brown
Treasurer: Malene Evans
Vendors: Georgia Calderon
Volunteers: Marion Mullen
Link to Vendor Application